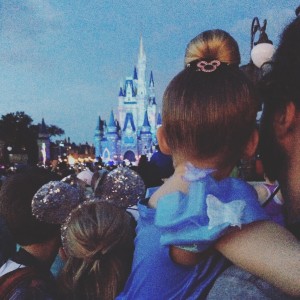 Hi everyone! I wanted to send out an update on our family for anyone who may have found us since my blog was featured on CFF.org , new CF parents, old friends, and anyone else who might we wondering what we're up to!
We are happy to say we've enjoyed another healthy year! Here are some highlights:
Anna's Amazing Race raised close to $10,000 for the Cystic Fibrosis Foundation! Thank you SO MUCH to everyone who supports our fundraiser! We are thankful everyday for such awesome and generous people in our lives.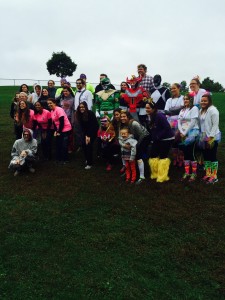 The Fall brought with it our newest family member, a dog-sister named Pearl, who just turned 1 this month!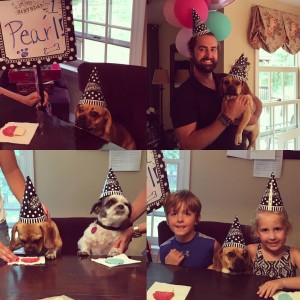 We had our first plane ride – to Disney World! – on Christmas Day! It was truly magical!! It was our first time taking such a big trip and I had anxieties about things like medications, germs on an airplane and being exposed to SO many people at Disney, if she would get really sick etc. But after reassurance from our CF team at Hopkins and a lot of planning we were ready to give it a try. Disney was a great place to choose because they are great about accommodating any special needs. We went to Disney's City Hall (right inside the Magic Kingdom) when we got to the park and they took her picture and adjusted her magic band so that she was able to scan it and be given a time to return to ride instead of having to wait in the line. It was AMAZING! Anna felt like the Disney Queen with her special band power, we were able to do everything we wanted to even on the busiest time of the year, and we could sit in the shade/drink water/ eat/use the bathroom whenever she needed without worrying about losing our spot in line. I think it was the first time she saw CF as something that wasn't a burden but also as something that made her extra special. I made sure she knew it was all that time working hard to stay healthy, doing her vest, taking her meds, that helped her have the best time at Disney. We learned a lot too. Things like: you can board the airplane early to sanitize seats and tray tables and wipe everything down, get a letter from your CF center to take with you to the airport and to show at Disney explaining CF and help you may need, spray bottle fans are great to cool down a hot little CFer in Florida, be prepared to drag your vest around airports and planes because it's too scary to check a $20,000 piece of medical equipment(!), the bibbity bobbity boutique is worth every penny, and that Disney is actually the happiest place on Earth. Anna got her flu shot earlier in the year which helped me feel a little better about the trip since it was during flu season. She made it through the trip with no cough or cold. She had a cold in January that required antibiotics but that has happened every January since she was born so I think it was just par for the course.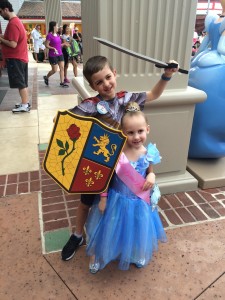 The winter had its ups and downs with virus' and antibiotics here and there but nothing requiring hospitalization. We've discussed having her do a bronchoscopy at some point since she has never cultured anything except for normal staph but has colds off and on requiring antibiotics. Her doctors feel confident in how she's doing now but if that trend continues it might be beneficial for them to get a sample from deeper in her lungs to make sure there isn't any bacteria in there that isn't showing in a throat sputum culture. It sounds like it will be something that will happen eventually but how soon we aren't sure. In the meantime, her weight and height have been great and she still has a baseline of no cough at all.
This summer has been filled with beach trips, day at the swim club where she's now 100% swimming on her own(!), learning to ride her bike with her dad and brother, hikes and a cabin trip coming up, and her first big haircut yesterday!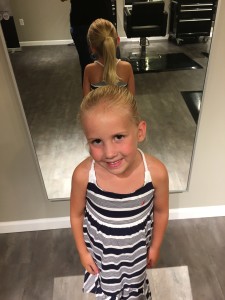 Anna will be starting Kindergarten this fall! Our elementary school recently changed kindergarten from half day to full day so that is going to be a HUGE change for us come Fall. I considered homeschooling and also holding her a year, but we decided as a family (Anna being the most important vote) that she was ready. I know this year will be one of change and adjustment and I can only hope for health but I expect it could be our toughest year yet. We're working on her 504 plan with our CF team and that will be finalized in August so I'll post that when I have it all figured out. I'm going into the year hopeful but with an open mind and ready to accept what comes one thing at a time!
Anna's next CF clinic appt is in August where we'll be discussing school AND she'll be participating in a research trial. It's not for a medication unfortunately, but she'll be having photos of her lung taken and other non-invasive tests and samples in order to find more information on her mutation and how it works. It'll be a long day and we'll have 2 more 2 day appointments in the future but we're happy to be able to do our part to advance research for doctors working so hard for our cause. I'll update more after!