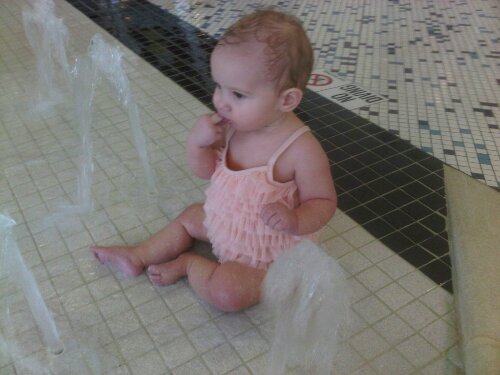 Anna is 8 months old today! In a way time flies but at the same time it feels like she's always been here

  We had a great day today. We went on a play date to the YMCA in Camp Hill where they have an awesome kids pool with tons of splashing things and even a perfect little spot for Anna to sit and play.  It was a fun time for me too since I didn't have to be too stressed about germs.  Both she and Jack had so much fun and then we went to visit Mimi! Everyone's favorite thing to do.
Anna does have a little cough that has been hanging around a little while but we've been keeping an eye on it and it hasn't been getting any worse so I'm hoping it will clear up in the next few days.  Overall, she is doing great! We're very proud of her being so brave and being (for the most part) cooperative with meds and physical therapy.
Now I can add one more task to my to-do list: planning the best ever 1st birthday princess party extravaganza!