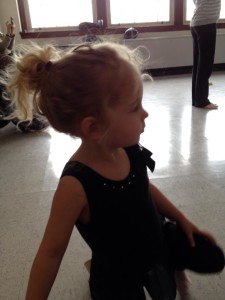 Wow. This winter has been pretty brutal for nearly everyone I know. There's been a lot of cold, a lot of snow, and a lot of illness. The past month and a half has been full of illness for this family.
Jack got a cold that he couldn't get rid of, he's having his adenoids assessed to see if we need to remove them. Anna fought her little butt off trying to get rid of her cold for weeks but she's officially off of antibiotics after a month and so far she's still at her baseline of zero cough. So hooray!!! And she is a beautiful little ballerina in her ballet bunnies class, she couldn't love it more! However, as much of a princess as she has become she still loves to wrestle too

Surprising, I've been the sickest of us all, while also being the one never allowed to get sick!! I'm currently fighting bronchitis that turned into pneumonia so it's my turn for heavy antibiotics, breathing treatments, and steroids. As hard as it is to take care of everyone I'd take it over Anna ANY day. Feeling my lungs compromised in this way makes it's makes me so much more dedicated than ever knowing how painful coughing is to make sure that what I'm feeling now is NEVER EVER Anna's day to day life.
Oh and did I mention we moved this weekend?!  We are loving our new house but we are very ready for some warmth and calm in our lives.
Like I said, it's been a crazy winter! To say we are looking forward to Spring is an extreme understatement…. AND the most exciting part of spring is ANNA'S AMAZING RACE!!!!! Our talented coordinator Robert has been working hard getting his creative clues made up and we are on our way to a great event. All we need now is YOU! We promise to make this year better than ever, with better routing, really fun and challenging tasks, and ultimately an awesome and unique experience for a fantastic cause. Every year we are learning from the last to make things better and more fun. I am SO excited about this years tasks that I wish I could race myself!!!  Sadly, I know too much.  This is a competition after all!! But I'll be in charge of a really fun task, if you've been there the past few years you know it'll be a good one!
This year our focus is going to be on fun AND on reaching out. Here are some awesome ways to raise money for your team:
- Tell your friends! It's even more fun competing against people you know. Ask your co-workers or friends to make their own team and you can even get some bragging rights once you win

-Send emails!!!! You'd be shocked how many people you can reach who haven't even heard of CF, and you'll also be shocked by some people you may not know who also have been personally affected by CF and are willing to join into our fight. And donation or not you've informed one more person and we appreciate that so deeply.
- Check into your company and any match program they may run. Over the past few years more and more companies have been joining in a company match program where they match an employees donation to a charitable cause.
- Have a party! Doing something fun like having a party with games, beer olympics, flip cup tournament, or games of some kind that require a pay in that you can dedicate to your teams donation. Can't fundraise without FUN right?!
- If you work in a school or grocery store where you can sell flyers please let me know and I can get them to you! Great way to earn money for your team.
- Ask your family! Being charitable is something to be proud of any ANY amount of donation is priceless to us

P.S – Easter is on it's way, great time to see your family and you can always look for some money filled Easter eggs

- If you work somewhere that they allow you to put a collection jar out for donations, contact me! I will set this up for you and help in any way I can.
- Check into restaurants that are willing to donation portions of a night of sales to your team. A lot of restaurants will be willing to give you a night where a portion of proceeds go to our event, I know Friendly's and Isaac's are two that definitely participate.  AND come to our event at Mudhook Brewery in York on Wednesday May 7th! Our very own Robert will be guest bar tending  and 20% of your check will go to our event!
Raising money is our passion because we are funding research for a CURE. And it is on the horizon, it's so close but yesterday wasn't soon enough when you're a mom watching your daughter struggle and be different because of mutation in her genetic code. Raising awareness is our second passion, putting a face to this disease that so many people have never heard of. So please, get out there! Get a team together!
Please share our story on social media, it's such an amazing tool that can truly change our lives and giving Anna a chance at a TRULY healthy life, free of this debilitating and currently fatal disease. One day we can all say WE had a part in curing the most prominent genetic illness.
So let's do this my amazing friends and family (this means you especially Musso's

We want to see some old man Musso teams out there! ). If we can get teams signed up all throughout this month then you'll have all of April to raise funds and reach out! My heart is full with the love everyone has shown our family if over the past two years and I want you to know this means the absolute world to us. Thank you all for being part of this journey with us.
Now let's all forget this miserable winter, look forward to Spring, and  have some fun!!!
You can up your teams here:
http://mycommunityevents.com/common/eventDetail.aspx?id=25061
You can donate to our event here:
http://www.mycommunitytickets.net/common/eventDetail.aspx?id=25062
We will also be creating a paypal account to make it easy for paypal users to donate that we will have available in the next few days OR you can also send donations to our NEW address:
233 S Pitt Street
Carlisle, PA 17013
All donations are tax deductible using the tax ID code 13-1930701
If anyone has ANY questions about the registration or donation process please feel free to contact me anytime at kmmusso@gmail. com.
We are looking forward to an amazing event with great people! See you all very soon!