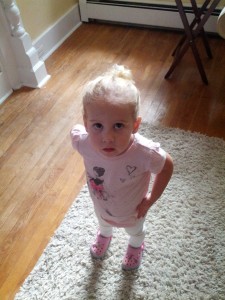 A lot of the blog posts I write are to update friends and family on Anna and our family. When I started the blog it was to not only keep them informed but to help new CF parents looking for advice or wondering what day to day life is like since that is what I was searching for when I first got Anna's diagnosis.  This is one of those posts that is probably not interesting to our friends and family, warning: some gross content to follow. BUT it's a big part of our lives and something that I think can really help some CF parents looking for information. SO here is our potty training experience….
Cystic Fibrosis affects not only the lungs but also the digestive system. Her body is unable to break down and digest food naturally, which is why she takes enzymes with everything she eats. As she grows her enzyme dosage gets adjusted to do the best possible job for her but there are still always issues.  She has to eat as many calories as possible in order to gain weight because even with her enzymes she only takes in a certain amount of everything she eats. She also needs to stay hydrated since her body sweats out a higher concentration of salt. These things equal A LOT of trips to the bathroom. I was wondering how we were EVER going to potty train her…
We were very pleasantly surprised at how easy it ended up being! I think that because she's always had belly issues she is already very aware of when she needed to go number 2. She started potty training right around her 2nd birthday and she was actually excited about it. Surprisingly, she was MUCH easier to potty train than Jack.  She very quickly only went number 2 on the potty.  For a while we had to have her little potty nearby at all times because of how frequently she has to go. It took her a little longer to get a hang of always going on the potty (again because she drinks so much and has to pee so often) but she is fully in big girl underwear now. She still wears a pull up most nights though because she doesn't always wake up. The only issues we've run into so far are much more issues for us, and not for her. First of all, we're trying to get her to only go in the big potty instead of her little one because clean up is not fun! CF parents will know that bowel movements are extra super gross. Secondly, we just have to adjust our routines to include a lot of potty time. We always have to make her try to go before we get in the car, and we have to make a lot more stops while driving. And most importantly I have to know where the bathroom is whenever we go anywhere outside of the house. We are now very acquainted with the bathrooms at every restaurant and store we've been to in the past few months.
The good thing is that she is really happy about it. I know she is proud of herself and happy to not be wearing diapers anymore.  Sometimes it's exhausting and I almost miss the days of diapers when I didn't have to rush anywhere or visit the bathroom 4 times during a dinner out at a restaurant.  But it makes me happy that we can make her a little more comfortable about going to the bathroom since it's such a big part of her life. I always feel so helpless when her belly hurts but she is so calm now and proud going on the potty that I think making it a priority and getting her there is the least we can do. So to parents approaching potty training their CFer in the future: it's possible! And to parents with a young potty trained CFer: I feel your pain! But one day this will be something she has to deal with on her own when she's older and in school. Thinking about her having to deal with it on her own makes my heart ache, so I'm just happy to be able to be a part of it with her now. I want her to know I'm here for her, she's not alone, and she's not abnormal, and she's not a burden, even on that 5th bathroom trip while shopping. In the future we'll fight her digestion battles as they come but for now I think we're very lucky with how she is gaining weight and how healthy she has been. We continue to be thankful for being so blessed every day!