Hello! I'm sorry I've been gone so long, we've been VERY busy and a lot has been going on with our little family! We're excited to fill you in on the last few months!
First, I want to talk about Anna's Amazing Race. There WILL be an Anna's (4th!!) Amazing Race this year and we can't wait to hopefully see all of our awesome teams returning and some new faces too! Your support for our family in the last few years has been nothing short of miraculous. We are so grateful to have so many people loving our girl and supporting the search for a cure! In the past 3 years we've raised over $30,000 for research and there has been A LOT of research going on! They are closer than ever to a cure for Anna's mutation, the most common and most severe, DeltaF508. .
That said, Anna's Amazing Race will have a few changes this year but be back and better than ever! The first change is the date. While we normally hold the event in May because it is Cystic Fibrosis Awareness month, it's also a month of graduations, weddings, and lots of other things! Plus, I've recently embarked on a new journey working part-time a few nights a week so a little extra planning time will help us make this year extra AMAZING

 Anna's Amazing Race will be held on October 3, 2015. We LOVE Fall and are excited to incorporate new tasks into the event, and you know we LOVE costumes so it'll be a perfect dress rehearsal for Halloween if you choose to dress up! We will also be launching a new website for the race that will be very user friendly. I'll be posting the link and more race info in the next month or two.
This has been a great year for the Becket family! Jack has started kindergarten and is loving every minute of it. Luckily for mommy it's only half day so I don't have to miss him too long yet! Daddy rode in another CF bike race and did a great job! And Anna started preschool this year! It was a lot of back and forth on whether or not we wanted to take the risk of putting her in school. Since preschool this year was a choice rather than a requirement we really needed to weigh the pros and cons. Ultimately, we don't want to put her health at risk but we also never want to hold her back if we don't need to and she was ready to go. We talked to our doctors who assured us that her being in the classroom wasn't going to be a bigger risk than her being anywhere or even being around Jack so we trusted them. We've had a great year! We had our share of colds, antibiotics, and steroids but we only had one linger long enough to bring hospitalization into the picture. We worked extra hard and did a lot of therapy during that time and she finally started to get better so we are happy to say that we got through yet another winter hospital-free! This time now with the seasons changing is always a tricky one for us so we're crossing our fingers that she stays healthy over the next month.
Anna is more active than ever. She loves to run and is even going to start running little distances with daddy! She also does tap dancing and her first recital is next month! There will definitely be A LOT of pictures coming soon

She also started swallowing her enzymes which has been a HUGE change! She still sometimes prefers not to but knowing that she can take them easily even if we're out somewhere and don't have applesauce and a spoon handy is a relief.  She is still on her same amount of meds, nebulizers, and vest therapy and she's been doing great. It seems like the older she gets the less she argues about it which has been a nice surprise because I thought it might be the opposite!
Thank you all for always supporting our blog and events. We love each and every one of you! Look for more info on the Amazing Race coming soon! Here are some pictures of the last few months!! XO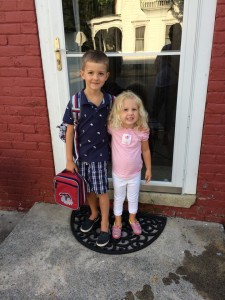 Jack's First day of Kindergarten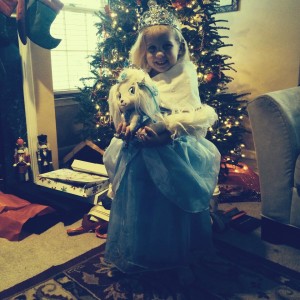 The happiest Cinderella on Christmas Day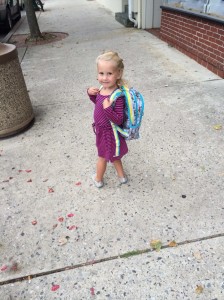 Annie's first day of preschool! Wonderwoman bookbag in tow

Her very first field trip, apple picking!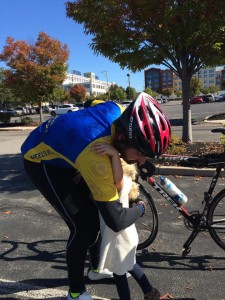 Big hugs for daddy after his bike race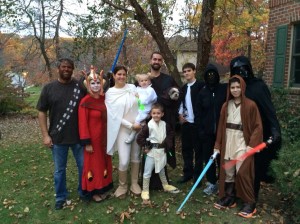 Halloween! This years theme: Star Wars. Told you we like costumes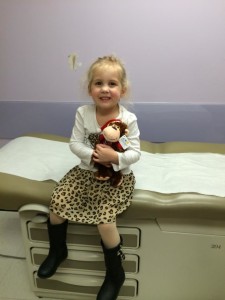 Being brave at a clinic appointment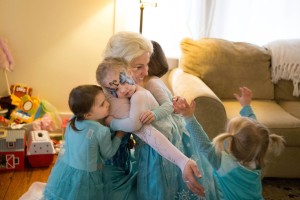 Meeting Elsa at a friend's party!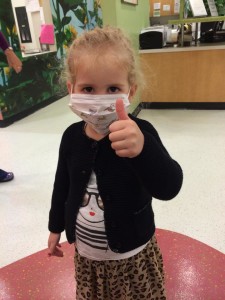 Thumbs up and ready to get a checkup at the clinic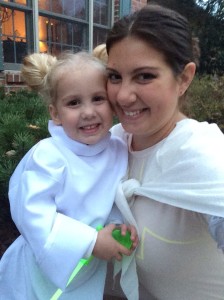 A closeup of our adorable Princess Leia!