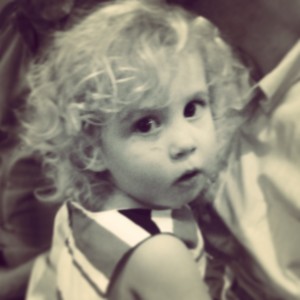 There has been A LOT going on with us in the past few weeks. First, we're gearing up Anna's 2nd Amazing Race and are SO excited to see people signing up and submitting donations! We're so appreciative and can't wait to have a great day of fun for the cause closest to our hearts. May is a big month for CF families because it's Cystic Fibrosis Awareness month. We have Great Strides, the 5K walk run by the Cystic Fibrosis Foundation, on May 4th and then our event May 18th. We're inspired to work even harder this month after the news we got yesterday…
Jack has been sick with a cold for the past 10 days now and he's finally starting to clear up. Despite our best efforts to keep her healthy, Anna started showing symptoms last Friday. We called our doctors at Hopkins and even though her last culture was clear, which means she didn't have any bad bacteria growing in it, they decided to start her on an antibiotic to help her get over it quickly. Things went from bad to worse on Monday and she was really coughing a lot and having a hard time. They decided to switch her to a different antibiotic. We had an appointment at the pediatrician the next day to have Jack's ear infection checked up on and to have Anna's lungs listened to. The doctor decided to send Anna for a chest x-ray. Her x-ray showed pneumonia in the middle lobe of her right lung.

As prepared as I always think I am or as much I think I know CF I still get surprised by it. I guess I wasn't expecting it to become pneumonia so quickly, I mean the first time she coughed was Friday and it was only Tuesday! I was worried about Jack having it since he had a terrible cough for 10 days but his lungs despite the cough were perfectly clear. It was just one of those terrible moments where I really understand how differently Anna's body is on the inside.
Hopkins decided they wanted to see her the next day so that's what we did yesterday. They explained the x-ray to us and showed us what the pneumonia looked like and we made a plan to get it cleared up. It's important for us to get her lung back to normal as quickly as possible so that no lung damage has any time to occur. And we want perfect scar free lungs!!! So we are keeping her on her antibiotic and doing her vest for an hour and a half every day. We're also doing her albuterol and hypertonic saline as usual with an extra albuterol treatment with her extra vest treatment. They've given us until the 11th for our next appointment. So for the next 10 days we will be working our very hardest to get this lung healthy! That said, everything we are doing still might not clear it up so we've been presented with a seemingly endless list of scenarios.
Scenario 1: The antibiotics and extra therapy does it's job and her cough is gone and get x-ray is clear at the next appointment. This is the VERY best scenario and what we are hoping happens!! This would mean we go back to life as normal

Scenario 2: Her cough is clear but her x-ray still shows the pneumonia. If this happens they're going to give us some more time and keep the extra therapies going (because sometimes x-rays can take a little time to catch up to her getting better) and if when they do the x-ray again it's clear we're back to normal but if it's not clear then they'll do a bronchoscopy.
Scenario 3: Scenario two happens and she needs the bronchoscopy. A bronchoscopy is where the patient is sedated (not completely but for the most part) and a scope will be put through her mouth and into her lung where they will remove any mucus build up and clean out the problem area. If all goes well this is an outpatient procedure.
Scenario 4: They do the bronchoscopy and they find a lot of mucus or some cause for concern and decide during the bronchoscopy to admit her for the course of IV antibiotics.
Scenario 5: On the 11th she is still sick and the x-ray is still bad – she will be admitted on the 11th for a 14 day course of IV antibiotics.
Scenario 6: They get the results from the culture back that they took at her visit yesterday and it shows a bad bacteria growing in there they might reconsider and admit her for the IV antibiotics earlier, they should have those results by this coming Monday.
So in the meantime, we're just doing the only thing we know how to do and taking it one day at a time, doing her treatments and giving her meds. We are VERY hopeful that we can avoid a hospitalization but I'll do whatever it takes to get her back to 100% and if that's what our doctors think it will take then that is what we'll do. The in-between is the worst part because I analyze every sound she makes but I have no real way to know if her x-ray will be clear. At this point I'm just focused on her cough because we know that if the cough goes away then we won't be admitted on the 11th.
So needless to say, this month means a lot to us to raise awareness and raise money to fund research toward a cure. This current CF situation just strengthens our resolve to do everything we can for Anna now and in the future to let her live the life she deserves, free of this scary in-between and with nothing but a world of possibility in her path.
Thank you to everyone who is signing up for and and donating to Anna's Amazing Race! If you still need to sign up your team or wish to donate the links are on the top left of this site. Thank you again! We are working hard to get healthy so we can be there and spend the day with everyone