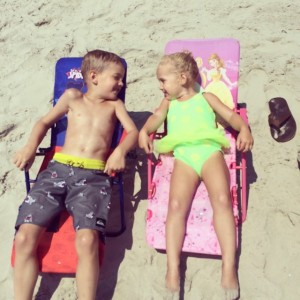 There haven't been too many updates on here from the Becket family but if you follow us on Facebook you can probably see that we've been loving this summer!
First, I want to say that we are so so grateful to everyone for making Anna's 3rd Amazing Race so successful. We were able to raise almost $8,000 for the Cystic Fibrosis Foundation. This brings our overall money raised for the Foundation since Anna's birth to over $30,000! We are so grateful to be surrounded by such a loving and generous support system of family and friends. I think this year's race was better than ever! Every year we learn more, get more creative, and improve it. We couldn't do any of this without the unbelievably hard work put in by Robert Godfrey at My Community Events. And I also want to give a special thank you to my mom who loves Anna so deeply and works so hard with me for a cure for our girl. Team America really brought the spirit to a whole new level so I think the costumes will be extra fun next year. Our friend referred to the race as "Halloween in Spring" and we love that! We look forward to seeing everyone and some new faces at next year's race!
Shortly after her 3rd Amazing Race, we celebrated Anna's 3rd birthday in June! This was her best birthday yet for me because we got to celebrate a full healthy year! She had a few close calls with hospitalization but overall I felt confident the whole year in our abilities to get her healthy and we always did. I know there may come a time when we can't get it cleared up ourselves but for now we are so happy to feel empowered and to know that she has that fighting spirit and fights hard with us to get healthy at home when she is sick. I can only hope and pray for another year as wonderful as this one has been.
We are now starting to gear up for a new adventure… pre-school and kindergarten!! After a lot of deliberation, we decided to let Anna go to school this year. Jack started at her age and she seems ready and interested in learning. I can also see some of the effects already from me trying to keep her away from groups and out of classes before now because she is definitely slow to warm up in a group setting. I think giving her this chance to be independent will be a great things for her. I'm also aware that this could mean more germs. I had to make a choice between sending her to the older class in the morning 3 days a week or 2 days a week with the younger class. After a lot of discussion with the teacher we decided to send her the extra day because the older kids are more likely to stay home when sick and also have less runny noses etc. I'm doing my best to be prepared. I've already had multiple sit-downs with her teachers, I've been helping her get completely potty independent so she's prepared to be at school, her teachers will have a very open dialogue with me about kids being sick and we will keep Anna home whenever we need to, and I'll be going with her for the first two weeks to give her enzymes at snack time to keep things as routine as possible. Her teacher is the one that suggested I go with her at the beginning because they want to do things exactly like I do at home to make the transition as seamless as possible. Her teacher has also already known her for 2 years since she was Jack's teacher too, so we are feeling nothing but hopeful! However, I know that if it doesn't work out and I see that her health is suffering significantly we are prepared to say it's not the right time. I'm blessed to be able to stay at home full time and know that keeping her home is a possibility. I know this is just the beginning of school plans and big decisions and I can only hope that we are making the right one for now. I'll be sure to keep everyone posted on how this works out for us for anyone struggling with the same decisions. And as for Jack, he couldn't be more excited to be starting kindergarten! He has always loved going to school and luckily for me his kindergarten is only half day so I have another year before I have a complete breakdown over him growing up too fast!!!
In the meantime, we've been enjoying this healthy summer! Anna has only been on antibiotics once in the past few months for a runny nose that wouldn't clear up. But they did the trick and she's been great for almost 2 months now. We enjoyed two weeks at the beach in Avalon, NJ and we've been major pool bums soaking up the sun at the Swim Club the rest of the time. Anna has been swimming and running around every day and I am hoping for a great checkup when we go back to Hopkins in two weeks! We're planning another trip to the beach before summer is over and then we'll be ready for school, ballet, and soccer to start. Here's to another amazing summer!!!