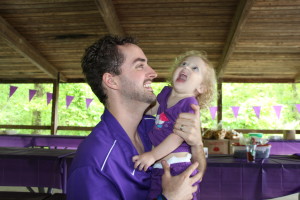 Anna's 2nd Amazing Race was nothing short of truly amazing. It was a day full of encouragement and love. Words can't describe what it meant to us to see the support of our families, loved ones, friends, and even people we have never met that somehow found our story and wanted to contribute to our cause. There are times that this disease can feel isolating, having to keep a distance between CF patients themselves, and the fact that while being a common genetic illness it isn't all that common to meet other CF families.  Seeing everyone come together on this day to show their support for Anna and for our family, and to show just how many people are fighting with us for a cure, is the most wonderful feeling I could imagine.
Last year was our first year fundraising and we set our goal at $2,500. We were surprised and elated when we shattered that goal and raised a little over $9,000 for the Cystic Fibrosis Foundation. Inspired by last year, we set our goal high for this year with $10,000. I thought it might be unattainable a second year but this year we raised $12,315!!!!!! We are so grateful for everyone's hard work in raising funds and incredibly thankful for the awareness you've brought to CF in the process.
This year we had 20 teams racing!! We were so happy to see familiar faces coming back to race again and excited to see some new faces join our cause! Some teams even found us by reading about our event in the newspaper which was a great surprise

We had all new tasks this year, they ranged from things like our own version of 'Are you smarter than a 5th grader?', to making CF posters and raising awareness downtown, to acting out a scene from a play. We plan to keep changing the tasks every year and we already have a lot of fun ideas for next year!
After everyone got back from the race we enjoyed food, fun, a raffle, and awards. The top prize went to the Lime Green team who finished the race first having completed all of their tasks. The top earning team was the Cowgirl Team who raised $2,000!!! A very close 2nd was the Black Team who raised $1,500. And the most spirit went the Gold team who's creativity pulled them through, although it was a tough match against the Ladybug team!
We are already looking forward to next year when the race will be held on Saturday May 17th. We will work until then to make it even better! We recently submitted the donations directly to the Cystic Fibrosis Foundation where they will be using it to continue research in search of a cure.
This Sunday our little Anna Rose turns 2 years old! We are so thankful for the past 2 healthy years and we look forward to a cure in the near future!  THANK YOU for being part of making our dream of a cure a reality and for giving her the hope of truly healthy years to come. In her 2 years since we even heard of Cystic Fibrosis we have raised over $20,000 toward a cure. We are so grateful for the love and support we've received and on behalf of Anna and everyone who loves her so deeply we thank you from the bottom of our hearts.
We've included a gallery of photos below!
We need to thank some incredible and generous businesses that donated to our cause either through food, gift cards, or donations: