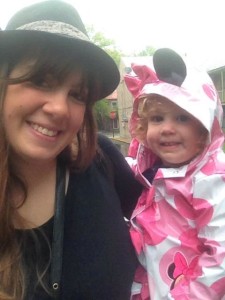 In our last post, I talked about the latest that was going on with Anna. Here's a quick recap: After a few days of cold symptoms, an x-ray showed pneumonia in the middle lobe of Anna's right lung. We were presented with a long list of scenarios and were facing a long hospital stay if she didn't improve. We kept her on an antibiotic, increased her therapies to 3 times a day, and worked hard to get her healthy! It was VERY important to get the pneumonia resolved because it is when the lung is compromised that lung damage can occur, so we wanted to get it taken care of before that had a chance to happen.
It took a few treatment filled (and anxiety filled for us) days but she finally started to improve on Thursday of last week. Since then she improved a little bit every day but I wasn't sure it would be enough to avoid hospitalization. It all came down to her x-ray. I haven't felt anxiety like that in a LONG time. I knew everything would be ok and we would do whatever we needed to get her healthy but let's face it, no one wants to be stuck in a hospital room for 2 weeks! I didn't want Anna to have to go through the PICC line, or any of it. We spent a few days there last year but this year she is so much more aware and active and talking, I just didn't know what to expect. I'm happy to say I STILL don't know what to expect because we have narrowly avoided yet another hospital stay. Her x-ray showed that her lung was GREATLY improved. The x-ray looked completely different! It was the absolute best possible outcome. I'm so proud of her for being so strong and being cooperative during all of the extra treatments. She is our big, brave girl

So now, more passionate than ever for a cure, we get to get back to our fundraiser THIS Saturday!!! We are SO excited for Anna's 2nd Amazing Race. We are thankful to all those signing up and and donating. We officially have more teams than last year and are really excited to hear all these new racers joining! We can promise you a day of fun and laughter for a great cause. Please share our video, send out emails, post on your Facebook page, anything! You will be surprised how many people will respond and regardless of the outcome you are spreading awareness which is HUGE!!
I wanted to let everyone know that when making an account on My Community Events website to donate, all of that information is required to use a credit card, it is completely secure, and the information will be used ONLY for your donation and nothing else! No spam, etc. We will also be taking cash or check donations either before or on race day. All checks should be made out to the Cystic Fibrosis Foundation. All donations are TAX DEDUCTIBLE!!! We have the links to sign up your team and donate linked here. If anyone has ANY questions about donating or signing up please let me know I am happy to help! You can email me using our contact form and I will get any info you need. Just a reminder we still have a team of 2 looking for 2 more members if anyone is short a few teammates! We are so excited to see everyone on Saturday. Thank you for all your support always and for your prayers and well wishes this past week. We couldn't be more appreciative and we feel SO blessed to have you all in our lives.